Do you feel like you're running out of ideas for Christmas gifts for your loved ones? Wondering what to buy as a Christmas gift for a man, a gift for a woman, your mom, dad or kids? We've put together a few gift tips that are sure to go down well.
What is the secret of Christmas gifts for women? It's simple. Choose Christmas gifts with love. And whether you give your woman a gift voucher for a game of your choice or choose an Escape the Room Game, you will see that you will put a smile on her face.
Our Exit Rooms are fun for everyone, regardless of age or gender. The individual tasks are structured in such a way that the individual team members work together.
Good teamwork sharpens skills such as communication, strategic and logical thinking. You'll improve interpersonal relationships.
You have one hour to solve all the puzzle and escape from our Adventure Room. Our Rooms can also strengthen with a deliciousdinner 3-course menu, raclette or fondue (by arrangement with the hotel Novotel Zurich). You will start the beautiful evening with a Welcome Drink.
Don't hesitate and book one of our Escape Rooms in Zurich today.
What to give your men under the tree? Prepare some surprises for them. And when they unwrap the wrapping paper, they will be happy like little boys, not only about their Christmas present from you, but also about having you.
Our Exit Game is a great gift tip for all adventurers and lovers of healthy exercise. Our Escape Game will trigger a good amount of adrenaline in every player.
During the Treasure Hunt, all tasks must be solved correctly and before the time limit expires. The battle with the time during the Foxtrail will get even the laziest player moving and get even the toughest.
With our Outdoor Escape Games players can explore the beauty of the unexplored parts of the city. The City Game is not only a great choice as a gift, but also for Christmas dinner, teambuilding or bachelor party.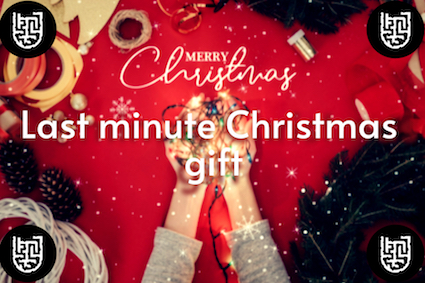 Give the gift of one of our Outdoor Exit Games in Zurich, interactive game in Winterthur, Outdoor Escape Game in Basel, Outdoor Escape Room in Bern, Schatzsuche in Lucerne.
If you want to host a Christmas businness dinner in Berlin then try our Scavenger Hunt.
Planning a trip to the Central Europe? Stop in Bratislava and try our Escape Room Bratislava.
Near Bratislava, you can also find our Escape Room in Hotel ,,Murder in the Hotel", which you can play in Vienna at the Hotel Novotel Wien City.
If you are visiting Milan, you can play our Escape the Room in the Navigli district.
Not only the little ones are looking forward to Christmas, but also the big ones. And since wishes are fulfilled especially at Christmas, you should look carefully and choose Christmas gifts for children that will not only entertain them, but also help them to get their skills sharped.
In one of our Escape Game Rooms, the kids will surely have a lot of fun. If your kids don't spend enough time outdoors and lack the exercise they need, give them the gift of our Outdoor Games or Indoor Escape Mission.
Our Escape Games for kids will also teach kids new things and improve useful skills that will translate into their academic performance.
Our Exit the room is fun for kids 5 years old and up, our Scavenger Hunt with kids can be played by kids 7 or 10 years old and up.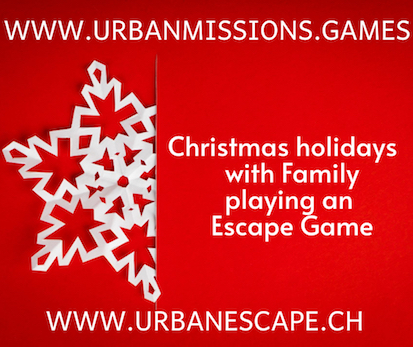 Not only at dinner on Christmas Eve, but also throughout the year you can get together as a family. Meet in one of our Adventure Rooms or play our Exit Games in one of our partner hotels.
Our Hotel Missions work on the same principle as our Schnitzeljagt. You have 2 to 3 hours to successfully solve all the puzzles and secrets of a particular URBANmission with your team.
After the entertaining program of Christmas dinner with family, you can enjoy a delicious dinner together.
We offer you our missions, which you can play in the Hotel Hilton Zurich Airport or recently in the IntercityHotel Zurich Airport.
Are you planning a Christmas dinner in Winterthur? Our Escape Hotel Missions can also be found at the Hotel Banana City Winterthur.
In Central Europe in Hotel Novotel Wien City.
Enjoy the Christmas atmosphere together as a family during your Christmas dinner in Zurich or Christmas dinner in Winterthur.
Don't hesitate and book your family Christmas dinner today!