After the Halloween discounts, we've decided to delight you with another promotion. We've come up with some crazy Black Friday discounts of 50% on all our escape games.
How to get your 50% Black Friday discount?
It's very easy to get our 50% off discount on escape the games. Just enter the discount code: ,,blackfriday50%" in the ,,discount code" and half of the total price of your order will be deducted.
The origin of the term
The term "Black Friday" originated across the Atlantic, specifically in Philadelphia, where it became the name for the period after Thanksgiving and during shopping discounts.
It was named mainly thanks to the press and television, as well as police statistics on traffic jams, accidents and traffic collapses in cities caused by mass shopping.

That inconvenience continued during 'Black Saturday'. The discounts continue until 'White Monday', which is mainly known as 'Cyber Monday'.
Cyber Monday originated primarily as a marketing ploy by a certain portal, which identified this day as the busiest day for online shops (due to the lack of free time for shopping in brick-and-mortar stores.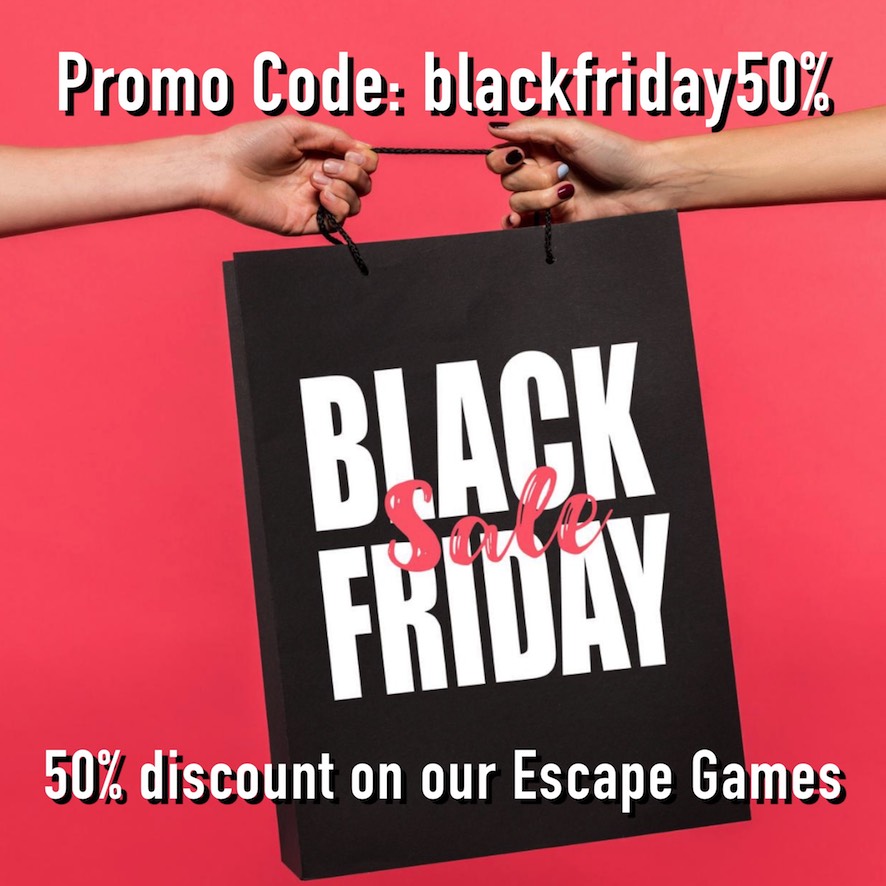 Black Friday as a shopping holiday
Our Black Friday sale offers you a unique opportunity to shop and save up to half on your purchase of our outdoor escape room and indoor escape games.
Make the chilly November days more pleasant with our Exit Game in Zürich. Or Escape Game in Luzern, City Game in Winterthur.
Are you from Germany? Try our Escape Room Berlin.
Do you plan a trip around the Europe. Visit Slovakia and try our Escape Room in Nitra or Escape Room in Bratislava.
The City Hunt will keep you warm and get your adrenaline pumping during these cold autumn days.
Our outdoor Adventure Rooms is interactive Treasure Hunt. It will not only entertain its players, but also hone their communication skills, for example.
Crazy sale
Our bombastic Black Friday discount kicks off on Friday, November 25, 2022 and will run until the end of November 28, 2022.
It will strengthen team spirit during a teamevent, teambuilding, school trip, class trip, family trip.
Our Foxtrail will also guarantee you the necessary dose of healthy exercise, test the cohesion of your team during a birthday party, farewell to freedom. It doesn't matter what kind of party it is, because it's a great addition to any celebration.
Autumn walks with our oudoor Escape Room will also take care of romance with your better half. You will be enchanted by the beautiful view of the mysterious several cities in the Europe.
A tip for a great gift for birthday, name day. Our Exit the Game is also a great choice as a Christmas gift for your loved ones at Christmas.
Book your interactive adventure today with a bombastic 50% Black Friday discount.
The discount code ,,blackfriday50%" can only be used during 11/25/2022 until 11/28/2022 midnight.
You might also like: BLACK FRIDAY 2022: BOMBASTICKÉ 50% ZĽAVY PRICHÁDZAJÚ
BLACK FRIDAY 2022: BOMBASTISCHE 50%-RABATTE STEHEN BEVOR